So on Sunday I entered my first fun run in 13 years. The last one I was in was the City 2 Surf back in 1993. Sunday's race was the 7 kilometre Bay Run, around Iron Cove, which is surrounded by Leichart, Five Dock and Rozelle amongst other suburbs. I got up nice and early for the race, 6am.. ergh. Rozie even came with me. I was really appreciative of the support since I know how much she loves sleeping in.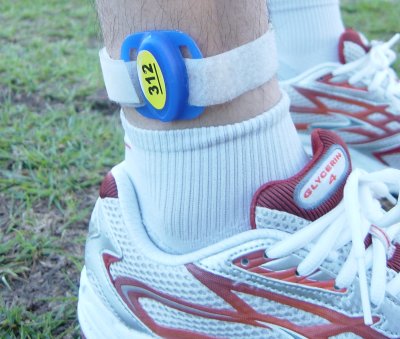 After registering, I was given an ankle tag and my racing bib. I spent some time, like others jogging up and down a bit to warm up. About 10 minutes before the race was a "professional" warmup, which involved lots of jogging on the stop and punching the air, kind of what I remember doing at school. It must have been the same for the other runners since half the place was in hysterics.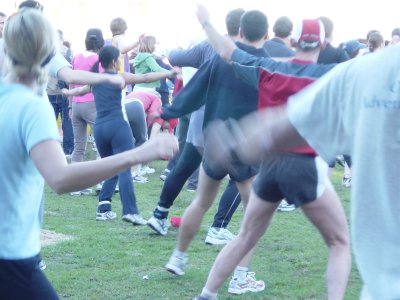 A few minutes after that, the race was on.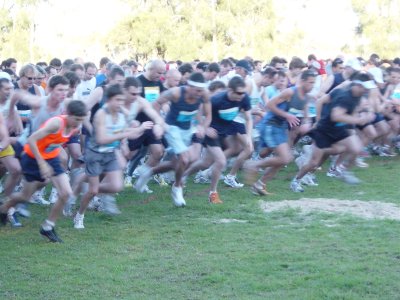 Most people made a pretty mad dash at the start, but I kept it safe and went with a comfortable pace. I found myself overtaking people pretty quickly and getting into a nice groove. After probably the 2nd kilometre, things were pretty static in terms of placing. But by about the fifth, people who'd been infront of me for a while dropped back and I found myself overtaking quite a few people. In the last 750 metres I managed to get past two little pipsqueaks who were probably about 10/11 years old. Little buggers!
So I ended up finishing the 7.05km course in 30:39. That was just under my aim of 31 minutes (although I would've been happier with under 30). That's a goal for next year though. I ended up place 127th out of a field of 770 men and women, 32nd out of 99 in the 16-29 year old males and 111th out of 457 males runners.
Overall I'm pretty stoked with how I went. I'll definitely be back for it next year and hoping to bust through the 30 minute barrier.
Coming up two weeks time is the City 2 Surf, which I'm hoping to do under 65:30 (my previous time) and after that, the Sydney Bridge run, which is approximately 10 kilometres.