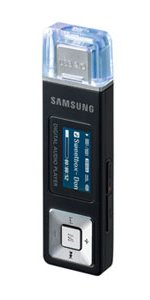 So after umming and ahhing over getting an MP3 for absolutely ages, I took the plunge and bought one last week. I guess I took my time trying to find an MP3 player mainly because I don't really get the oppurtunity to use one often (I drive to work) and also I had to be sure that it worked easily with Linux. I didn't want to get stuck with some MP3 player (*cough* ipod) that only worked with special software (yeah, I know they work with Linux now, but I really didn't want any fussing around at all).
So quite a while ago, I identified that Samsung's players were compatible with Linux. They basically just plug into a computer, it comes up as a USB flash disk and you just drag and drop the MP3 files (or OGG or WMA which this player supports) onto the disk.
The model that I ended up with was the Samsung YP-U2X which has a 1Gb capacity. It should be enough to keep me going as I have more interest in listening to podcasts from Triple J and ABC Radio National more than storing stacks of music files on it.
I guess what ended up being the catalyst for getting one was wanting to listen to something while I went for runs. Running was also the reason why I went for a flash player and not a hard disk based player. Another nice thing about this MP3 player also was that it has an FM tuner in it, which I didn't even realise it had when I bought it. Bonus!
All in all, its a really nice player and a good buy at AU$179.