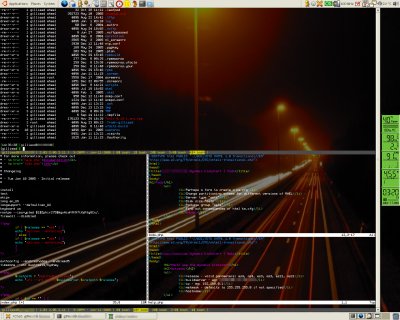 Nicholas
was hassling me upload this screenshot, so here it is. On my
IBM ThinkPad T41
at work, I'm
running
the
OpenBox
window manager in
Ubuntu 5.10 Breezy Badger
. In this session,
gnome-terminal
(with decorations removed) is ssh'ed into a server, with a split
gnu screen session
(my
current .screenrc
), with one of the screen sessions running
vim
with three split windows. I'm working on a php script which creates dynamic kickstart files for
Redhat Enterprise Linux
installs.
To split a screen in screen, its ctrl+a S, then ctrl+a tab to jump between the screens. In vim, its ctrl+w s to split the screen horizontally, ctrl+w v to split the screen vertically and then ctrl+w w to jump between the screens in vim.